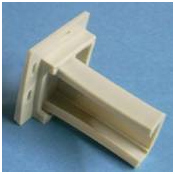 Plastic Drawer Slide Sockets

Plastic rear sockets available in over 100 styles. Plastic sockets available with many features including self closing, adjustable, pegged frame, under mount, tandem and full extension. Designed for use with drawer slides made by Accuride, Amerock, Blum, Grass, Häfele, Knape & Vogt (KV) and more!

Install in rear of cabinet or drawer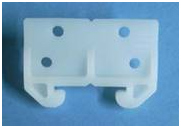 Plastic Back plate Drawer Glides

Drawer glide back plate designed to be fastened to rear of drawer to glide open and closed. Available for many sizes of wood and metal center mount drawer slides. Plastic back plates can be installed using screws of staples. Sometimes referred to as a plastic "slide glide" or "slide guides".
Install on rear of drawer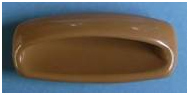 Recessed Plastic Drawer Pull

Plastic drawer pull has a deep molded grip for finger comfort. Recessed drawer pull has holes sized for a #6 sheet metal screw and allows for flush mounting. Plastic drawer pulls available in many color options.
Install on drawer front
Colors Available: Almond, Black, Brown, Charcoal, Gray, Tan, Yellow, White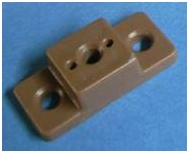 Plastic Drawer Slide Spacers

Plastic spacers for spacing drawer slides from inside of cabinet wall. Drawer slide spacers designed in many heights and styles to fit small to full extension drawer slides. Plastic spacers allow for installation with wood or Euro screws.
Install on inside wall of cabinet or drawer
Colors Available: Almond, Black, Gray, Tan, White
Sizes Available: 3/4in, 1in, 1-1/4in, 1-1/2in, 1-3/4in, 2in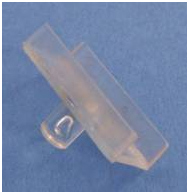 Vertical Plastic Divider Clip
Plastic divider clip designed to be installed in drawer to allow for ¼" divider panels. Divider clips available with ¼" and 5mm peg sizes in many colors.
Install in drawer or desk organizer
Colors Available: Almond, Clear, White
Peg Sizes Available: 1/4in, 5mm
Divider Thickness: 1/4in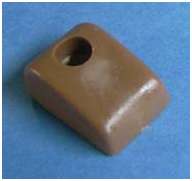 Plastic Drawer Bumper
Plastic drawer bumpers measure 7/16" high designed to keep drawers and slide out trays from damaging cabinetry. Available with reference tab and made for use with ¾" full extension drawer slides install using screws.
Install on drawer or slide out tray
Colors Available: Almond, Black, Tan, White